One calendar for everything happening in your community
Our platform harmonizes local events, non-profits and grassroots initiatives, and city services into one comprehensive city calendar, guaranteeing your activities are coordinated and your residents are always in the know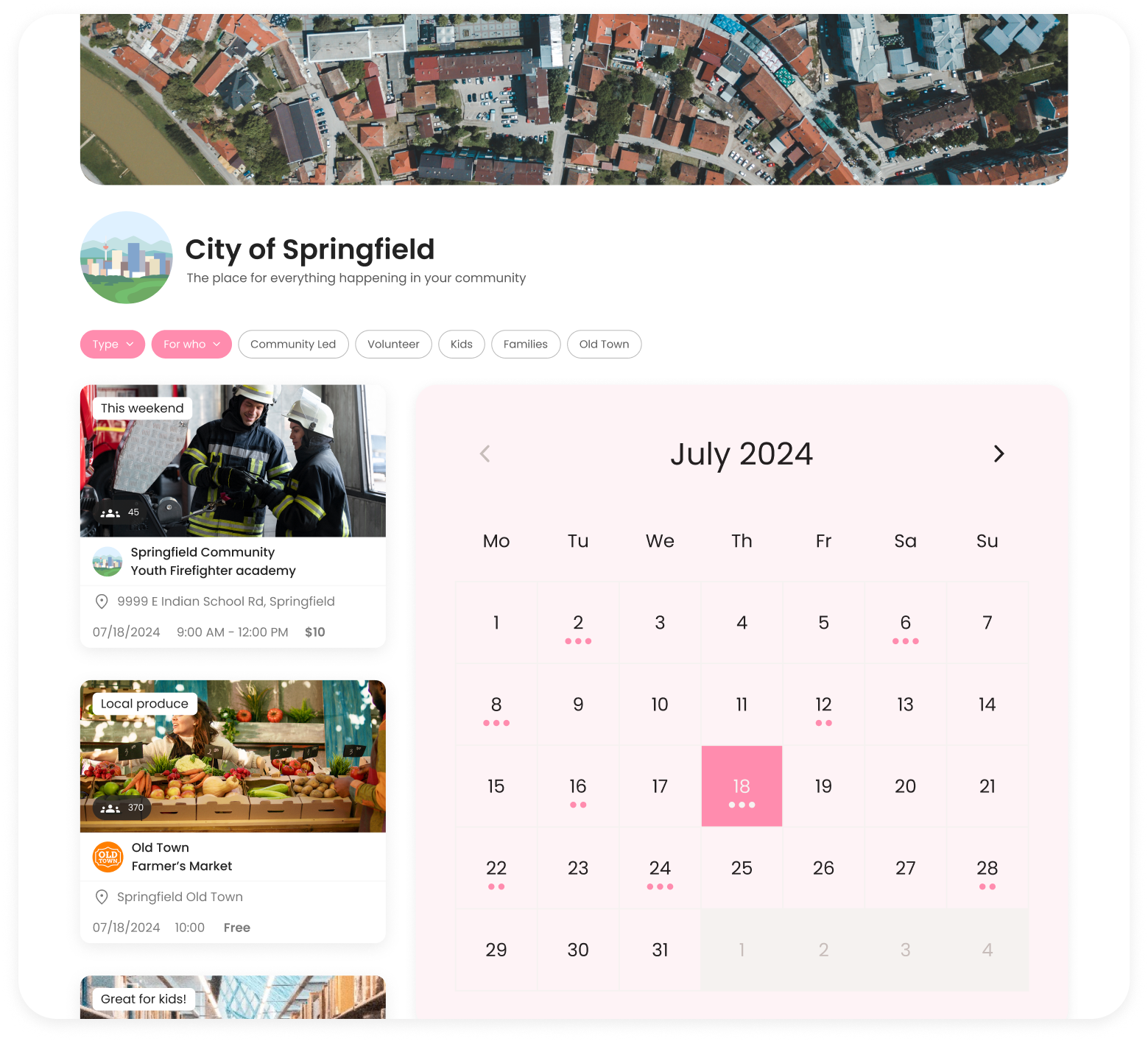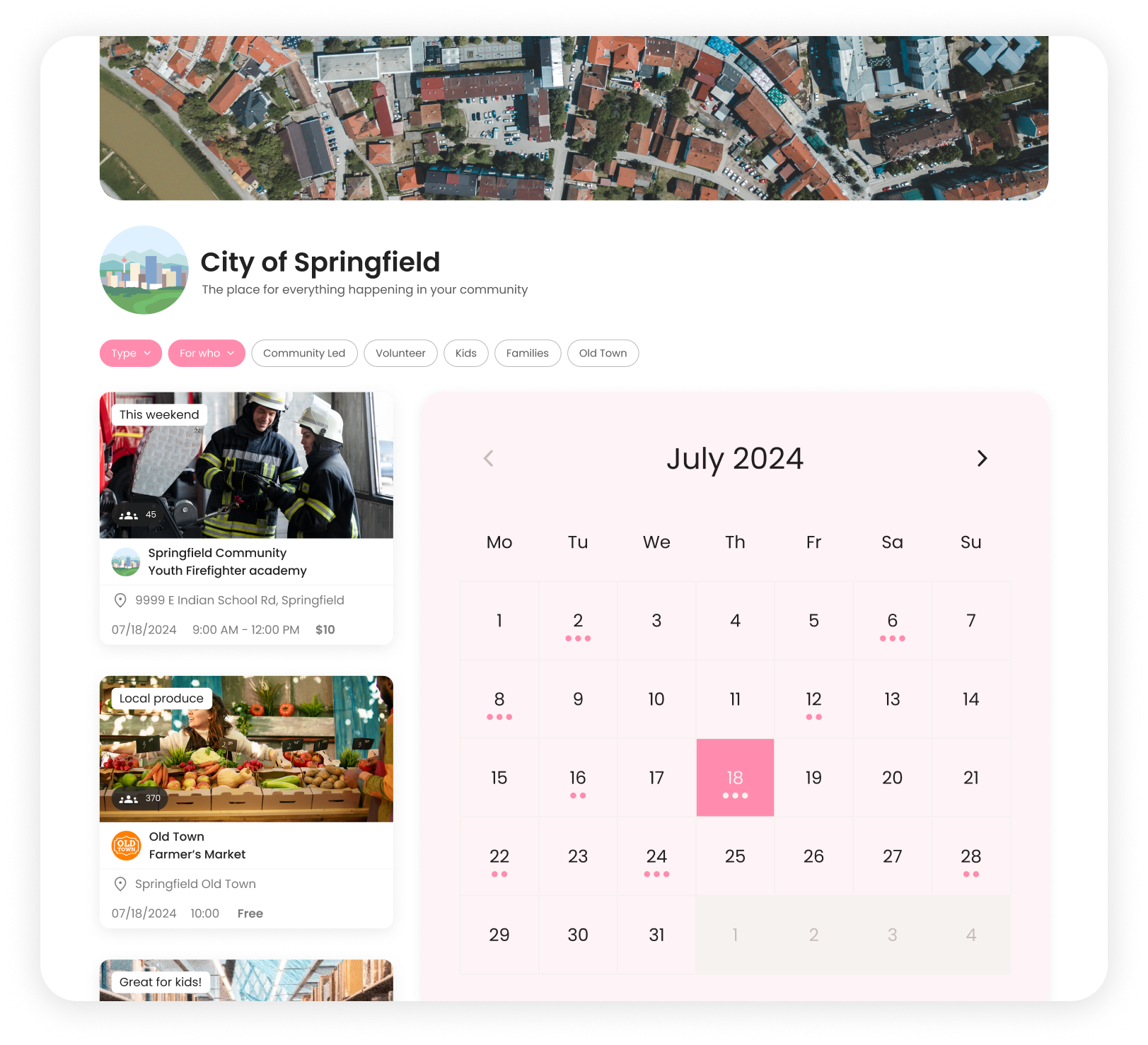 We work for those who work for their community
Enabling people like you to focus on what you came for. Not on paperwork.
Everything you need, right on your community page. From collecting donations to hosting afterschool programs, when registration is that simple, be prepared to be constantly sold out
Make your people an active part of community life. Give them the space and get them involved (and not only on weekends)
Make parents' involvement simple. Create a true sense of belonging by facilitating a collaborative and resourceful community to support the children and families
Promoting a profound change has never been an easy task. By eliminating administration time we'll enable you and your team to focus on what you're here to do
Give your students a space where they can participate, share, initiate, and simply do. Enjoy their creativity, empower them to explore, and increase engagement
Collaborate, engage with and understand the needs of businesses, residents, and stakeholders in your district. Be the collective voice of your people
Unlocking locality for local governments
Segment residents into highly precise micro-communities. From newcomers to culturally diverse groups, create customized experiences where all feel welcome and valued
Empower community leaders by enabling grassroots activities and non-profit initiatives. Expand reach and equip leaders with the tools to create and share
Personalize
resident experience
Tailor information and community offerings, providing residents with content that matches their interests and previous activity. Personalize by communicating through each resident's preferred channel & language
Drive action around what matters
Instantly implement our ready-made engagement solutions
to tackle any local challenge
Create an online or in-person event for your people in minutes. Host, manage, and analyze impactful events and invite your people to take part
Drive your people towards a sustainable and economic lifestyle by providing solutions for sharing all kinds of resources
Involve your people in planning and decision-making processes to set the right priorities, meet their expectations, and strengthen the relationship with the organization
Encourage your community to create circular systems with solutions tailored to minimizing waste and reusing resources
Bring your people together for the betterment of community life. Create a volunteering hub or recruit for a special project
Want to check them all huh?
We get it.
A global solution to create local impact
Unlock the true essence of locality, one that goes far beyond geography.
Invite residents and stakeholders to create and shape a vibrant ecosystem
Community hub for co-creation
Enable all community stakeholders to view, register, and initiate different community offerings, forming a collaborative ecosystem where everyone can find what they need and create what they want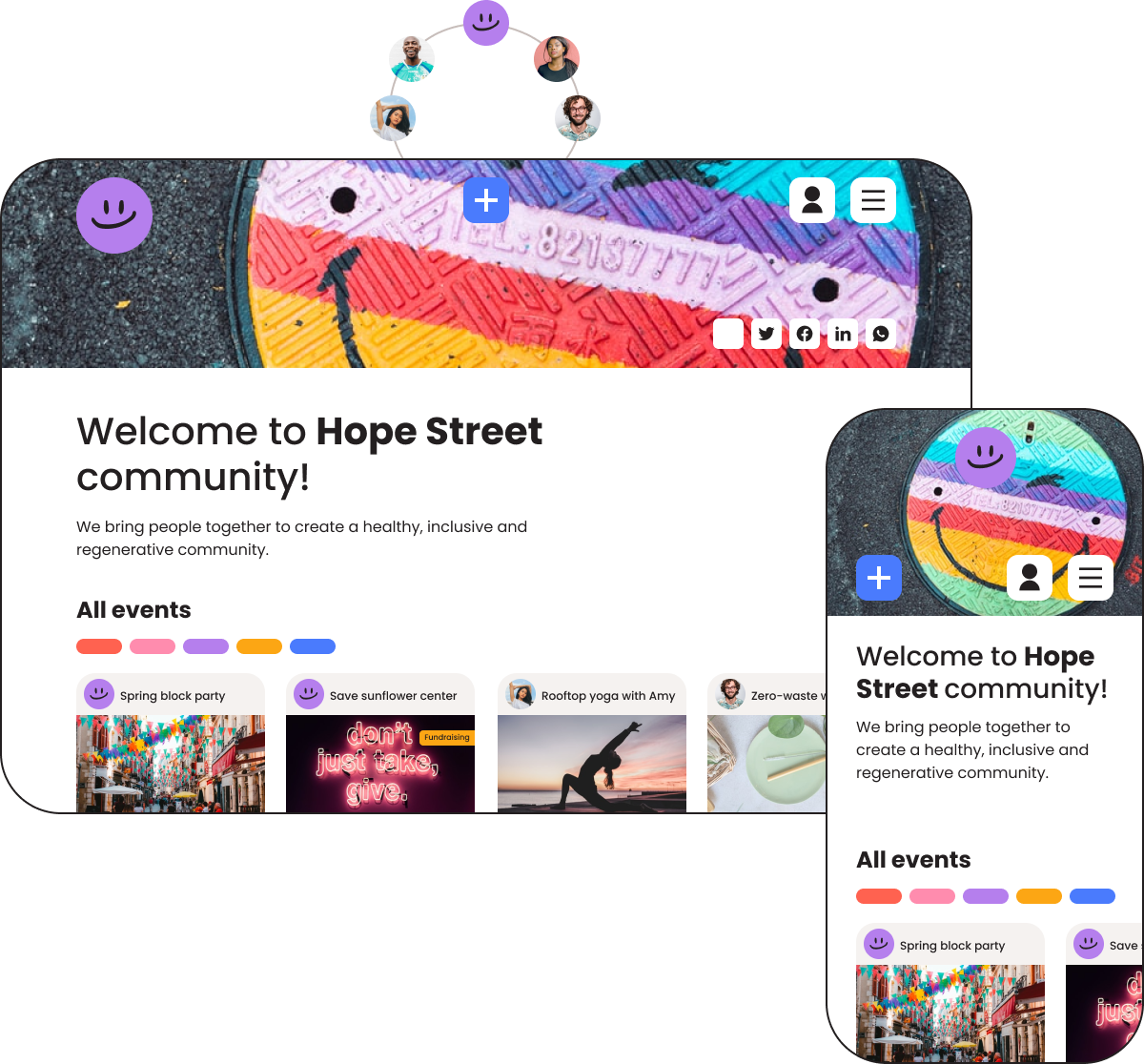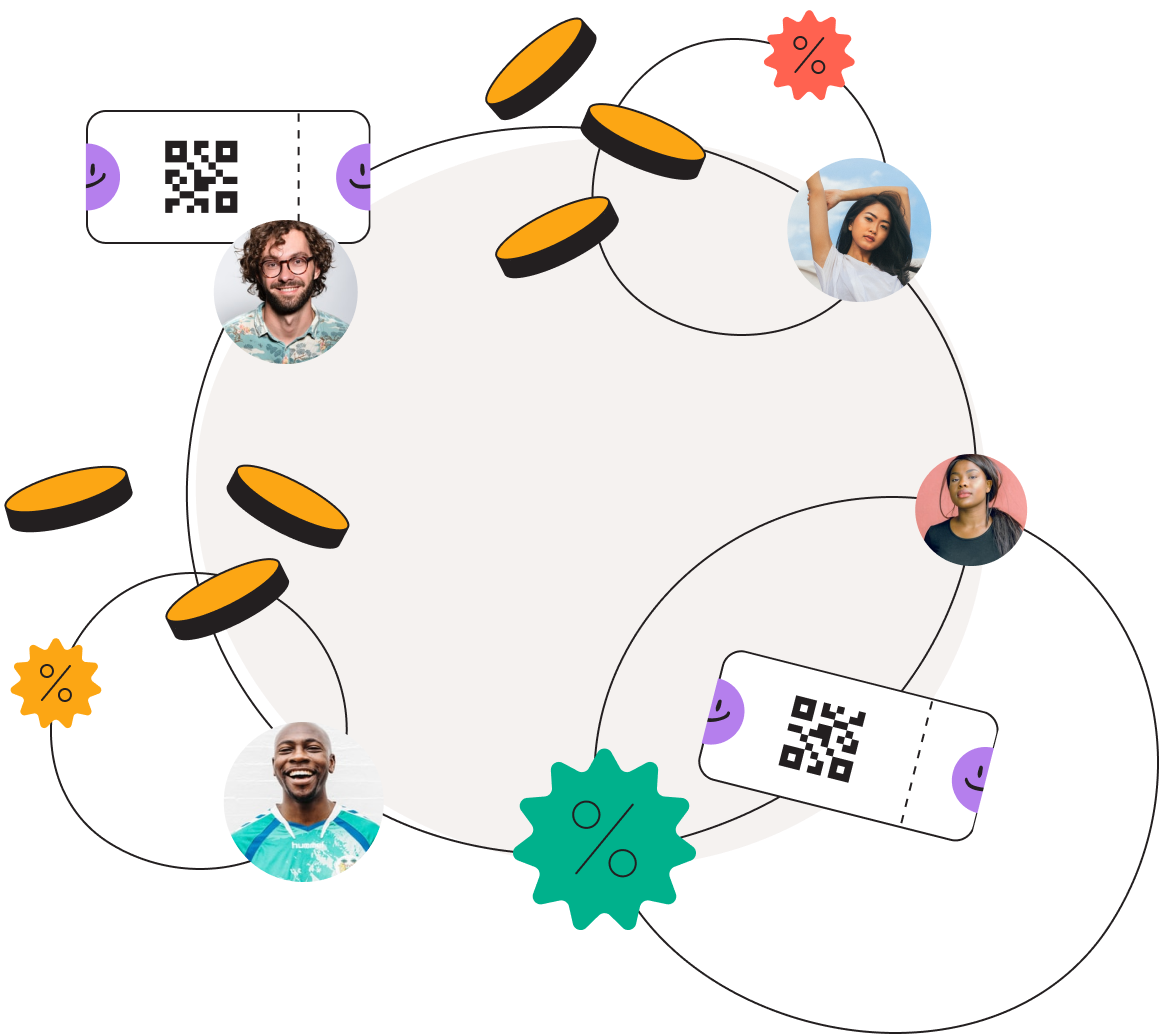 Resident-friendly payment options
Tailored to your community needs, our payment options include family ticketing, recurring subscriptions, paid memberships, coupons, and more. Feel free to flex about your flexible payments
A smart personal assistant to communicate with residents keeping them always up-to-date about everythings that's happening in the city. Send automated messages, confirmations, announcements, QR codes, reminders and more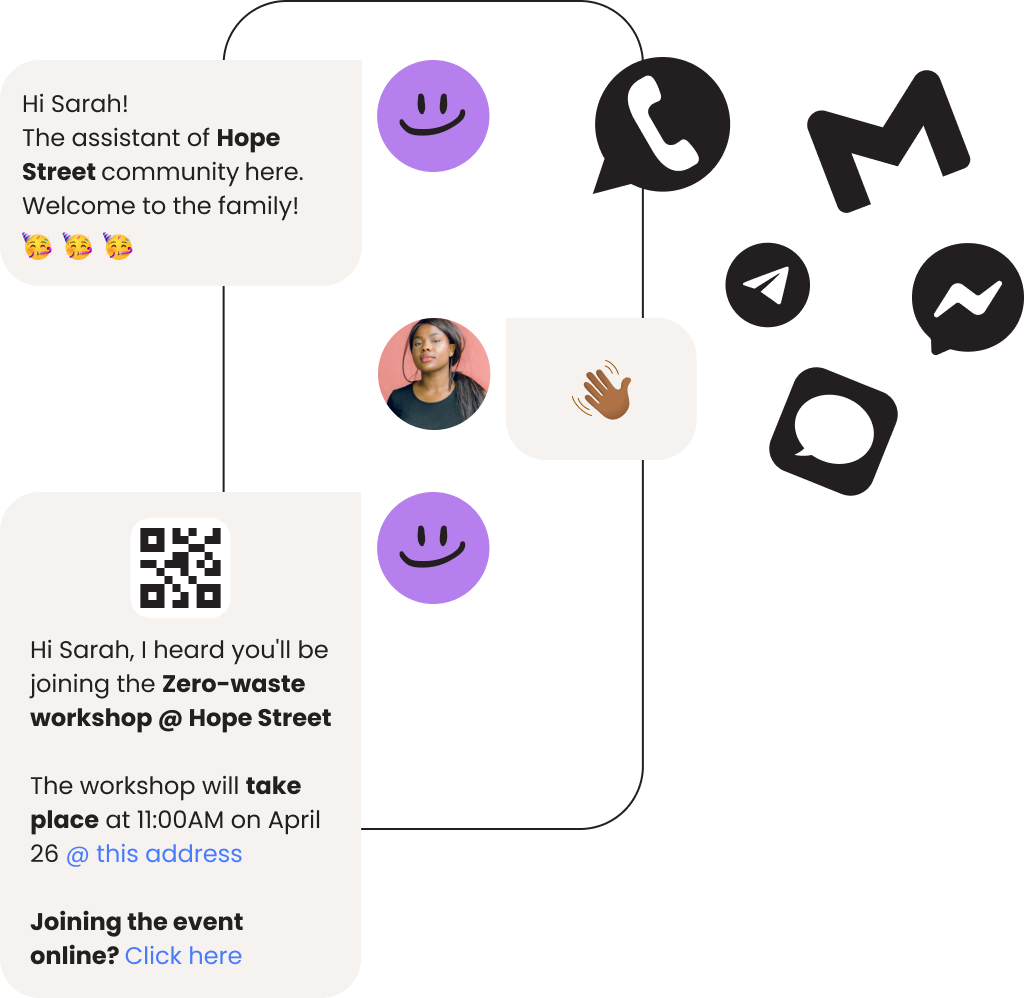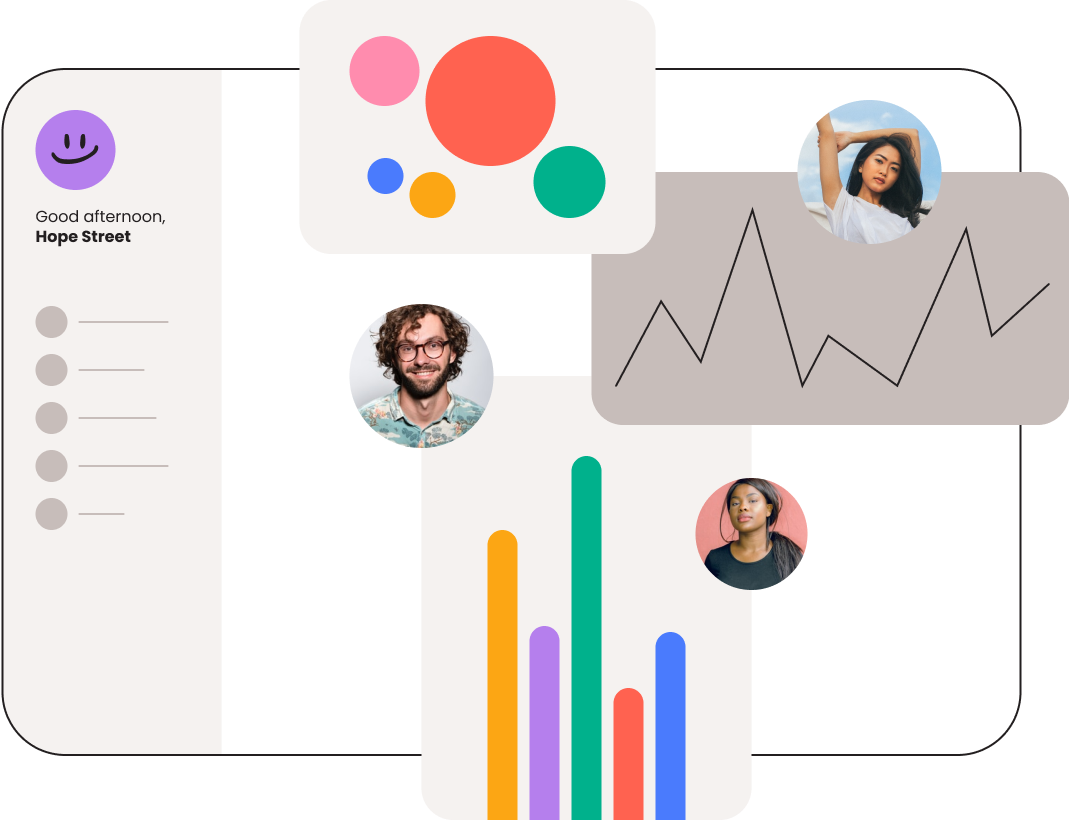 More data, better
personalization
Our People Relationship Management utilizes the data from your residents' activity to unveil micro-communities and leaders within your city to continuously expand your resident base
Unleashing the power of communities is
easier than ever. Coming with?